We've just published our latest farm map for visitors using our footpaths in order to enjoy a lovely winter walks around our grounds. You can download it below or scan the QR code at the farm entrance off Cryals Road where limited paper copies are also available.
It contains a lot of useful , and hopefully interesting, information. Happy hiking!
Charringtons Farm Walks Map NEW YEAR WINTER Edition 2021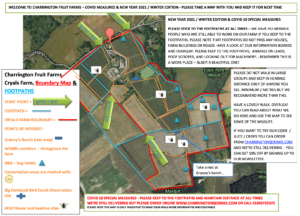 As we thought you might be in need of a refreshment or two after your walk, we have curated the Winter Weekend Pack.
What is included within the Winter Weekend Pack?
This pack contains an ideal selection of our award-winning products for the colder months; 6 bottles of our Cyrals Classic medium sparkling cider, 6 bottles of our Private Bin dry sparkling cider, a liter each of our Ravishing Russet and Captivating Cox apple juices, and 2 of our 3 liter carry pouches of our Earl's Reserve vintage cider, perfect for mulling with our 24 Red Peppercorn & Hibiscus herbal infusions.
Order one now so that its waiting for you when you get home!
If you would like to learn more about how we care for the environment around us please click here.