We love mulling cider, and it seems the judges loved our Earl's Reserve still russet cider mulled with Red Peppercorn & Hibiscus herbal infusions as well, as they awarded it 1* by Great Taste!
It's not just the cider either, Captivating Cox apple juice mulled with Red Peppercorn & Hibiscus mulling spice pyramids has not only has been awarded 1* by Great Taste, but has also won Best Hot Beverage – Infusions at the Quality Awards.
Both are utterly delicious and ideal for warming up as and when the temperature drops. With Christmas fast approaching you'd better order soon!
How to make them
They're also as easy to make as a cuppa! Simply heat the cider or apple juice (simmer but don't boil) and pop in a mulling spice pyramid. You only need one per cup or four per litre if making a larger amount. Leave to infuse for 3-8 minutes or until it turns a crimson pink colour. This means the festive spice flavours have developed. The longer you leave the pyramid in, the spicier it will become!
And enjoy – Christmas in a cup!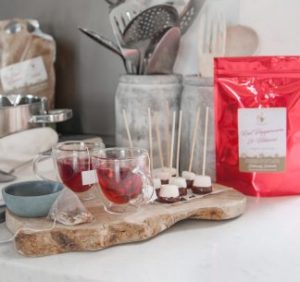 We have plenty of other ideas for Christmas. Have a look at our shop today and pick up some festive goodies.