Here's the Harvest Autumn Edition of our farm map and info sheet for any wishing to partake on some lovely Autumn walks around the Kent countryside this year.
You can find paper copies at the footpath entrances to Cryals Farm, where we produce all of our award-winning Kent Craft Cider, and can download the electronic version below. Have a lovely walk!
Charrington Farms Boundary Map AUTUMN HARVEST Edition 2020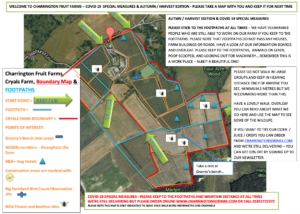 But before visiting…
Before you come for your Harvest Autumn walks, why not have a look at the Charrington's shop. That way you will be able to enjoy the fruits of our labour upon your return home. At this time of year, there is nothing better when you come in from the cold than a cup of warm mulled cider. Check out our Cider Mulling Set today.
For more information about the farm, read our story here.