The TN Card was founded by Jess Gibson (below) to help bring local businesses and customers together and foster a more sustainable local shopping community. Charrington's has joined a long list of high quality TN Card partner businesses, which range from primary producers like us, through shops and cafes, to beauty / leisure and professional services. We all reserve special offers for TN Card Members when they buy our products or services. Areas covered are Tunbridge Wells, Tonbridge and now Sevenoaks.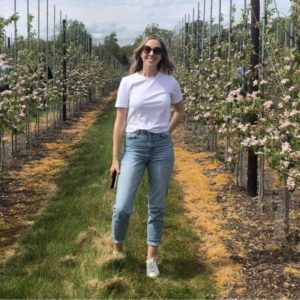 As well as being able to get special discounts on our ciders and apple juices, TN Card Members can save on a wide range of purchases while supporting small local businesses and giving your community a big boost. So everyone wins! Visit their website here to find out more or check out their Facebook page for details of benefits, participating businesses, and how to join – facebook.com/thetncard
On Sunday 9th May we hosted a special Blossom Farm Walk for TN Card members. The goody bags Jess put together included exclusive Charington's Apple Blossom Honey, Goupie Chocolates and other treats. We really enjoyed showing everyone around and sharing our knowledge and enthusiasm for all things apple. Here's what she had to say after a successful first member event:
"Thank you Alex and Grant for a very special afternoon and beautiful Cryals Farm. It was our first member event and it couldn't have gone better – the sun shone, the orchards were beautiful and Alex kept us engrossed and entertained as he talked us through your farming techniques, sustainability and cider making. His passion and commitment shone through and our members were blown away by all they saw and heard.
Some of our members were new to Charrington's and they left as huge fans, excited to seek out your products going forward. It was fantastic to be able to give our members a behind the scenes look at one of our favourite local producers and to see your beautiful trees at their best. We are proud to have Charrington's as a TN Card partner and look forward to more collaborations over the months ahead.
Please let us know when we can come back!"