After the success of Blossom Farm Walk back in May and lots of enthusiastic feedback, we decided to host a Summer Farm Walk for the first time last Friday. Since then everything has become much greener with young developing apples of varying sizes on show. As you can see form the photos, there was a fortuitous break on the weather and we had warm sunshine and mostly blue skies for the whole evening!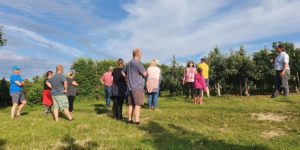 Alex adopted his now familiar role of chief guide for the Summer Farm Walk, enthusiastically telling all of our visitors about growing apples, bugs and leaves, as well as explaining all the work we need to do in the orchards during the summer months. Although we didn't see any deer during the walk, we did come across some evidence of their presence in the orchards! Thanks to all of the recent rain we've not had any need to irrigate the orchards yet this summer so the reservoir is full to bursting – we capture more water than we use each year and actually contribute positively to the local water table.
After the walk everyone hung out at the farm and were treated to some chilled cider and apple juice samples. Everyone maintained good social distancing (thank you!) and made the most of our rustic seating options. A big thank you to everyone who came along we hope you enjoyed yourselves as much as we did.
Keep an eye out for another walk during harvest later in the year when you'll learn how to pick an apple (without bruising it!) and have some fresh off the trees to take home with you. See you again soon…