Our latest farm walks map is now available for you to read and download. As always it shows all of the access points and footpaths around Cryals Farm. Bug hotels (or B&Bs!) and other wildlife points of interest are marked.
Please do not stray from the designated official footpaths – this is for your own safety as tractors and other farm machinery are constantly in use around the orchards. Harvest will be taking place from the end of August until early October so please take extra care during this very busy time in the orchards.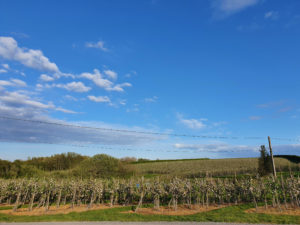 There's also information about the seasonal condition and behaviour of the trees and apples that are currently growing. We're in the process of replanting several orchards with new young trees and we explain this and the life cycle of an commercial apple orchard. Lots of interesting things you can learn and see in practice as you walk along our footpaths.
Please download and view the map and accompanying information by clicking on the link below:
Farm Walks Map Summer Harvest Autumn Edition 2021 V2 WEB
We wish you a safe and pleasant walk…remember you can always take a break sitting on Granny's Bench to rest and take in the view!