Our latest farm walks map Spring Edition is now available for you to read and download. As always it shows all of the access points and footpaths around Cryals Farm. Bug hotels (or B&Bs!) and other wildlife points of interest are marked.
Please do not stray from the designated official footpaths – this is for your own safety as tractors and other farm machinery are constantly in use around the orchards.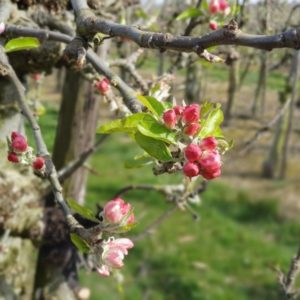 There's also information about the seasonal condition and behaviour of the trees. We expect the trees to blossom in late April / early May. It's a beautiful time in the orchards but also a crucial time in the annual cycle of the trees. Bee hives will be appearing in strategic locations around the farm and there will be lots of bee activity. Please take care and respect the bees as they go about their important work pollinating the apple blossom.
You will notice that several orchards have now been replanted with young trees of new varieties. These contrast with some of the much older trees of traditional apple varieties elsewhere in the orchards. There are lots of interesting things you can learn about the life cycle of apple trees and see in practice as you walk along our footpaths.
Please download and view the map and accompanying information by clicking on the link below:
Farm Walks Map Spring Edition 2022
We wish you a safe and pleasant walk…remember you can always take a break sitting on Granny's Bench to rest and take in the view!