After missing out last year, Blossom Farm Walk was back with a blooming marvellous bang in 2021!
On Friday 7th May we hosted a guided Blossom Farm Walk around Charrington's orchards. The weather was very kind and our guests were able to spend a leisurely hour experiencing our orchards at the prettiest time of the year.
The Spring temperatures have caused havoc this year with lots of freezing nights and relatively warm days confusing the trees at this crucial time. Different varieties were blossoming at different times, with the russets making an early start and the coxes lagging behind. However, there was plenty of blossom out for everyone to enjoy on the day.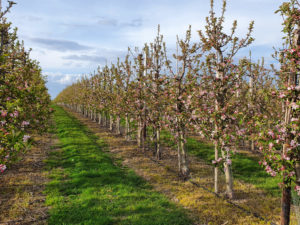 Alex was chief guide, enthusiastically talking about the apple varieties we grow, planting new trees, our sustainable farm management practices and pretty much everything anyone ever wanted to know about growing apples but were too afraid to ask. Those more keen on increasing their cider-making knowledge chatted to Grant. All in all an enjoyable time was had by all and everyone went home enlightened about apples and with car boots full of cider!
We'd like to thank everyone who came for creating a fun sociable atmosphere while maintaining social distance – quite a skill!
Keep an eye out for our Harvest Experience Walk later in the year when you'll be able to see, pick and taste the fruits of all our labours throughout the year.